Slaughtering and meat technology
LINECO specializes in the export sales of slaughtering and meat technology solutions to countries in Africa. We support customers in Africa with the development and realization of hygienic and successful slaughter projects. Result: safe, high quality and export worthy meat.
Our customers are private companies or governmental organizations planning to invest in new slaughtering and meat processing projects or in the rehabilitation or upgrading of existing abattoirs.
Products
Slaughter lines and de-boning lines for cattle, pigs and sheep/goats
Individual abattoir equipment, such as stunning and ritual killing boxes, hide pullers
Logistic and warehousing solutions for the meat industry
Rendering, waste water treatment and biogas plants > Read more
Meat processing equipment > Read more
ICT solutions for production and commercial processes.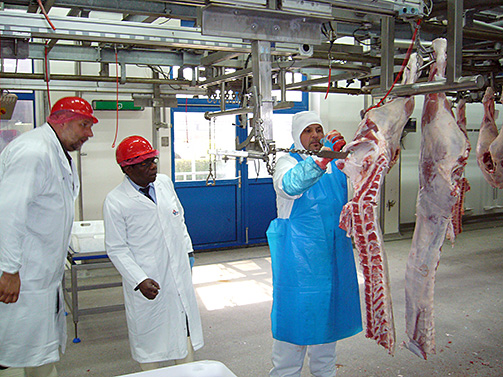 Services
Design, engineering and supply of complete abattoir and meat processing projects, incl. building, mechanical, electrical and refrigeration installations.
Technical services: Installation and commissioning, site supervision and project management, maintenance, training and after-sales service.
Consultancy: From feasibility studies and business plans to site inspection of existing abattoirs. Advice for rehabilitation or upgrading. Support with project financing (acquisition of grants, loans, subsidies, venture capital). Partner search for joint venture and/or trading partners.
Strengths of LINECO, the solution partner for integrated projects in Africa
Highest European hygienic and food safety standards
Innovative and customer-oriented solutions
Capacities from start to highest capacity industrial systems
High quality in combination with competitive price
Total solutions for integrated, whole projects (in collaboration with our N-A MTP partners and local sub-contractors).
We are founder and partner of Netherlands-African Meat Technology Partners (N-A MTP). For more information please contact us or visit www.namtp.nl. You can also download the N-A MTP brochure.